Why register as a user?
(This is a one time popup)
With a username, you become a part of our community.
As a member, you can share your knowledge in the following ways.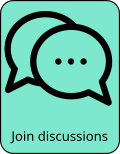 To register, click on the red person icon at the top right or this link.
We will not know anything about you other than your email, used for password confirmation and communications.
For next steps, see FAQ for: How can I register as a user?
Outline

Balaklava Blues is the duo Mark and Marichka Marczyk, who combine the polyphonic folk music of Ukraine with western electronic dance music and a very strong percussive layer. They also pull in elements from Balkan music, modernist dissonance, sheer rhythmic noise of industry, and trap beats, but throughout all that genre crossing, their melodic core remains deeply rooted in the Ukrainian tradition. Their songs tonally shift between contemplative pieces and full on bangers with primal beats. Marichka Marczyk is a powerful vocalist who soars to great heights and provides the center of gravity in most of their songs. Their second album, Let Me Out (2022) leaves behind some of the playful elements of their earlier work and adopts understandably more dramatic tones.

Lemon Bucket Orchestra, Zola Jesus, Jarboe, Eastern European and Balkan choral music. 
Members

Marichka Marczyk: keyboards, vocals, percussion
Mark Mazczyk: violin, vocals, percussion, electronics
Oskar Lambarri: percussion
Schedule

We currently have no events listed for Balaklava Blues.
Comments