Why register as a user?
(This is a one time popup)
With a username, you become a part of our community.
As a member, you can share your knowledge in the following ways.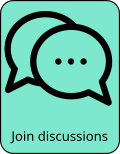 To register, click on the red person icon at the top right or this link.
We will not know anything about you other than your email, used for password confirmation and communications.
For next steps, see FAQ for: How can I register as a user?
Outline

Alvvays is a five piece band led by singer-songwriter Molly Rankin, that turns out jangly pop songs with lush arrangements and sharp hooks. Their music is fairly up tempo and rolls much in the way that summery pop typically tends to. Rankin's vocals are the driving force on the songs and she delivers them with a mixture of indie pop spark and dream pop mistiness, even when the whole band downshifts every now and then. Quite a few of their songs have the group hug inducing, sing-along-with-friends quality that occasionally crosses into the anthemic territory, but only slightly. Thus far they have been taking relatively longer breaks between albums, and each time coming back having leveled up with respect to their songwriting and execution.
Members

Molly Rankin: vocals, guitar
Alec O'Hanley: guitar, keyboards, bass
Kerri MacLellan:keyboards
Sheridan Riley: drums
Abbey Blackwell: bass
Schedule

Displaying 22 total events

| Show | Venue | City | Date and time | Tickets |
| --- | --- | --- | --- | --- |
| Alvvays | Saint Luke's | Glasgow (GB) | Sun, Oct 2, 2022 07:30 pm | |
| Alvvays | O2 Institute2 Birmingham | Birmingham (GB) | Wed, Oct 5, 2022 07:00 pm | |
| Alvvays w/ Slow Pulp | Riviera Theatre- IL | Chicago, IL (US) | Fri, Oct 14, 2022 07:30 pm | |
| Alvvays w/ Slow Pulp | First Avenue | Minneapolis, MN (US) | Sat, Oct 15, 2022 09:00 pm | |
| Alvvays | The Depot | Salt Lake City, UT (US) | Tue, Oct 18, 2022 07:00 pm | |
| Alvvays | Knitting Factory Concert House - Boise | Boise, ID (US) | Wed, Oct 19, 2022 08:00 pm | |
| Alvvays | McMenamins Crystal Ballroom | Portland, OR (US) | Thu, Oct 20, 2022 08:30 pm | |
| Alvvays w/ Slow Pulp | McDonald Theatre | Eugene, OR (US) | Fri, Oct 21, 2022 08:00 pm | |
| Alvvays | Moore Theatre | Seattle, WA (US) | Sat, Oct 22, 2022 08:00 pm | |
| Alvvays | The Fillmore | San Francisco, CA (US) | Wed, Oct 26, 2022 08:00 pm | |
| Alvvays | The Fillmore | San Francisco, CA (US) | Thu, Oct 27, 2022 08:00 pm | |
| Alvvays | The Wiltern | Los Angeles, CA (US) | Sat, Oct 29, 2022 07:00 pm | |
| Alvvays | The Observatory North Park | San Diego, CA (US) | Sun, Oct 30, 2022 07:00 pm | |
| Alvvays w/ Slow Pulp | Stubb's | Austin , TX (US) | Wed, Nov 2, 2022 08:00 pm | |
| Alvvays | White Oak Music Hall | Houston, TX (US) | Fri, Nov 4, 2022 08:00 pm | |
| Alvvays w/ Slow Pulp | The Studio at the Factory | Dallas, TX (US) | Sat, Nov 5, 2022 08:00 pm | |
| Alvvays w/ Slow Pulp | Marathon Music Works | Nashville, TN (US) | Tue, Nov 8, 2022 08:00 pm | |
| Alvvays w/ Slow Pulp | The Orange Peel | Asheville, NC (US) | Wed, Nov 9, 2022 08:00 pm | |
| Alvvays | 9:30 CLUB | Washington, DC (US) | Fri, Nov 11, 2022 10:00 pm | |
| Alvvays w/ Slow Pulp | Franklin Music Hall | Philadelphia, PA (US) | Sat, Nov 12, 2022 08:30 pm | |
| Alvvays | Kings Theatre | Brooklyn, NY (US) | Wed, Nov 16, 2022 08:00 pm | |
| Alvvays w/ Slow Pulp | Roadrunner-Boston | Boston, MA (US) | Fri, Nov 18, 2022 08:00 pm | |
Comments