Why register as a user?
(This is a one time popup)
With a username, you become a part of our community.
As a member, you can share your knowledge in the following ways.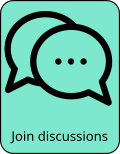 To register, click on the red person icon at the top right or this link.
We will not know anything about you other than your email, used for password confirmation and communications.
For next steps, see FAQ for: How can I register as a user?
Outline

The Wombats is an indie rock band with a knack for solid pop hooks and instantly accessible melodies. They work mostly in the Britpop style, having cycled through its various shadings since their first EP came out in 2007, which also includes a synth-heavy new wave period whose bits and pieces they have retained as a part of their ongoing sound. It is easy to find threads in their music that connect to various '90s sources including Blur, LCD Soundsystem, and The Strokes. Their songs often have a nice upbeat feel paired with the hooks, combined with a clear eye towards production and a clear sense of when to push up the sound and when to pull back.  The band delivers these dynamics with the kind of precision that comes from their years of experience in the field.

Arctic Monkeys, Circa Waves, Two Door Cinema Club
Members

Matthew Murphy: vocals, guitar, keyboards
Tord Øverland-Knudsen: bass guitar, keyboards
Dan Haggis: drums, keyboards
Schedule

We currently have no events listed for The Wombats.
Comments