Why register as a user?
(This is a one time popup)
With a username, you become a part of our community.
As a member, you can share your knowledge in the following ways.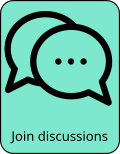 To register, click on the red person icon at the top right or this link.
We will not know anything about you other than your email, used for password confirmation and communications.
For next steps, see FAQ for: How can I register as a user?
Outline

Tim Arnold is a singer songwriter and a prolific multi-faceted artist, among other things. His work spans the full range between indie folk and indie rock, where his music does not necessarily transcend genres, but has a habit of doing things with some twist and originality in the presentation. On the occasions where he falls back to the tried and true, he usually creates high quality pop, or folk. His talents don't stop with indie, however. He has been working with violinist Jonathan Hill to create a series of neoclassical recordings . in 2011, he wrote and recorded liturgical music for Shakespeare's Globe Theater. Over the years, he has scored and directed movies. And all this when he is not working as an activist for the preservation of London's Soho district among other causes that are dear to his heart.
Schedule

We currently have no events listed for Tim Arnold.
Comments