Why register as a user?
(This is a one time popup)
With a username, you become a part of our community.  
As a member, you can share your knowledge in the following ways.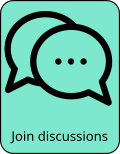 To register, click on the red person icon at the top right or this link.
We will not know anything about you other than your email, used for password confirmation and communications.  
For next steps, see FAQ for: How can I register as a user?
Outline

Ladaniva is the duo formed by singer Jacqueline Baghdasaryan and multi-instrumentalist Louis Thomas who take their inspiration from the traditional music or Armenia, the Balkans, and Eastern Europe. They mix it with a bit of Latin and African music, and occasional reggae. Their music is often joyful, sometimes boisterous, with an infectious beat. Baghdasaryan sings in Armenian and French and often with infectious enthusiasm , while Thomas provides sharp thematic motifs and melodic leads that weave through the songs. There are some downtempo pieces that take the party atmosphere down a notch or two for sure, but only for a while before the band is back on their feet again.

Armenian, Middle Eastern, and Eastern European music.
Members

Jacqueline Baghdasaryan: vocals
Louis Thomas: guitar, trumpet
Schedule

We currently have no events listed for Ladaniva.
Comments