Why register as a user?
(This is a one time popup)
With a username, you become a part of our community.
As a member, you can share your knowledge in the following ways.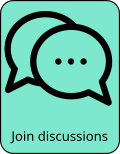 To register, click on the red person icon at the top right or this link.
We will not know anything about you other than your email, used for password confirmation and communications.
For next steps, see FAQ for: How can I register as a user?
Outline

Julieta Eugenio is a New York based tenor saxophonist originally from Buenos Aires, who has been active in the NYC jazz scene since the '10s. She has a soft and soulful playing style that suggests a mixture of Sonny Rollins and Dexter Gordon influences running in the background. Her music follows a lot of the idioms of the classic era of jazz and stays on the more traditional lane. She is sharp and very purposeful on the sax where she where her solos often extends the piece musically as opposed to sounding like she is communing with her instrument. On 2022's Jump, she  worked with bass player Matt Dwonszyk and drummer Jonathan Barber, who are just as exciting on their instruments. The trio plays with a kind of chemistry that is hard to miss.
Schedule

We currently have no events listed for Julieta Eugenio.
Comments