Why register as a user?
(This is a one time popup)
With a username, you become a part of our community.
As a member, you can share your knowledge in the following ways.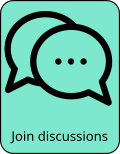 To register, click on the red person icon at the top right or this link.
We will not know anything about you other than your email, used for password confirmation and communications.
For next steps, see FAQ for: How can I register as a user?
Outline

Drama (typically capitalized as DRAMA) is a dance groove ridden electronic band whose melodies and stylistic choices are grounded in the R&B traditions. Singer Via Rosa is also the songwriter and Shehade is the producer who adds the presentational layer to the songs. Rosa has a measured and misty voice that projects a sense of melancholy that works with Shehade's mid tempo and laid-back dance tracks while also bringing some emotional depth to the songs. Their arrangements are typically pared down with enough breathing space, but they can also be quite lush and use syncopation in the beats. Their overall sound often resonates somewhere between The XX and Sade.

Sylvan Esso if their dance+pop genes were crispred with dance+R&B.
Members

Na'el Shehade: production, electronics
Via Rosa: vocals
Schedule

Displaying 4 total events

| Show | Venue | City | Date and time | Tickets |
| --- | --- | --- | --- | --- |
| Drama | Commodore Ballroom | Vancouver, BC (CA) | Tue, Apr 11, 2023 07:30 pm | |
| DRAMA | Neumos | Seattle, WA (US) | Wed, Apr 12, 2023 07:00 pm | |
| Coachella Music Festival - 3 Day Pass (Weekend 1: 4/14 - 4/16) with Bad Bunny, BLACKPINK, Frank Ocean and more | Empire Polo Club | Indio, CA (US) | Fri, Apr 14, 2023 03:30 am | |
| Coachella Music Festival - 3 Day Pass (Weekend 2: 4/21 - 4/23) with Bad Bunny, BLACKPINK, Frank Ocean and more | Empire Polo Club | Indio, CA (US) | Fri, Apr 21, 2023 03:30 am | |
Comments