Why register as a user?
(This is a one time popup)
With a username, you become a part of our community.  
As a member, you can share your knowledge in the following ways.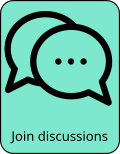 To register, click on the red person icon at the top right or this link.
We will not know anything about you other than your email, used for password confirmation and communications.  
For next steps, see FAQ for: How can I register as a user?
Outline

Aguava is multi-instrumentalist and producer Allen Chen, who works primarily in the house style EDM.  He pulls his material from a variety of sources in constructing his pieces, including  African beats, cumbia, soul, and disco. He occasionally adds pop jazz elements or brackets his pieces between classically inspired piano passages. On the other hand, he is consistent with respect to his core underlying beats and uses warm and breezy tones and maintains a sense of buoyancy that keeps things relatively light. His songs have a melodic flow mixed in with a bit of a retro feel from a stylistic point of view, as he tends to wear his '90s influences openly on his sleeve.

DJU DJU, Loverground, Harry Nathan
Schedule

We currently have no events listed for Aguava.
Comments