What are the main stylistic conventions?
Why register as a user?
(This is a one time popup)
With a username, you become a part of our community.  
As a member, you can share your knowledge in the following ways.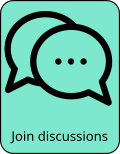 To register, click on the red person icon at the top right or this link.
We will not know anything about you other than your email, used for password confirmation and communications.  
For next steps, see FAQ for: How can I register as a user?
We have adopted the following convention in articles.
In the outline section only:
Bold-face the names of bands and artists on first mention (except the one that the entry is about; their name is in the title already).
Same with the names of collectives, e.g., Odd Future, Elephant 6, etc.
Same with venue names.
If you are writing about a band, do not bold face the members' names.
Italicize the names of albums and songs.
Don't use bold-faces or italics in the other field, e.g., If you like, Elevator pitch, etc.
Throghout the article.
Link the names of any artist, label, festival, or venue mentioned in your entry to The Propaganda Site article if we have an entry for them.
Link any mention of an instrument that the reader may not be familiar with, or any other esoteric reference to either its wikipedia site or something comparable.
Note that not every field allows links. Those that do either have a link icon at the top or you can hit ctrl+k on the keyboard.