Why register as a user?
(This is a one time popup)
With a username, you become a part of our community.
As a member, you can share your knowledge in the following ways.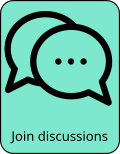 To register, click on the red person icon at the top right or this link.
We will not know anything about you other than your email, used for password confirmation and communications.
For next steps, see FAQ for: How can I register as a user?
Outline

Warpaint is a Los Angeles based band that combines their strong post-punk roots with an overall indie pop approach that leads to a trail of songs that come from different stylistic corners to add a sense of variety to their work. They also added a dance component to their music on their 2016 album Heads Up that brought them close to disco in some cases. There is however a strong dream pop element that comes from their hazy vocals and arrangements that almost add a grainy filter to get the dreamy effect. They have a remarkably strong drum and bass combination that sets the groundwork, giving the front two the space they need to set the overall mood for the songs. Their music tends to be slow to mid-tempo more often than not, it is driven by subtle melodies and has a lot of the emphasis placed on texture.
Members

Emily Kokal: vocals, guitar, keyboards,
Jenny Lee Lindberg: bass, vocals
Theresa Wayman: vocals, guitar, synthesizer
Stella Mozgawa: drums
Schedule

We currently have no events listed for Warpaint.
Comments