Why register as a user?
(This is a one time popup)
With a username, you become a part of our community.
As a member, you can share your knowledge in the following ways.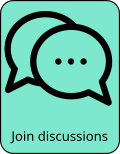 To register, click on the red person icon at the top right or this link.
We will not know anything about you other than your email, used for password confirmation and communications.
For next steps, see FAQ for: How can I register as a user?
Outline

Mint Field is an indie band originally from Tijuana, Mexico, now based in Mexico City, that is focused on a crossover style that extends from dream pop to low key shoegaze while also sweeping into krautrock grooves and psychedelic tones every now and then. The band has gone through some changes before they settled in as a guitar/bass duo. Estrella del Sol is the vocalist who provides the beautiful, ethereal vocals delivered with her naturally calm and misty voice. She also has a good stylistic range on the guitar from an old school drone to gentle dream pop chime and to full on fuzzed out shoegaze blasts in all their glorious dissonance. Neyra, on the other hand, acts as the steadying hand on the bass as the guitar moves around. Together they create music that is hypnotic, a bit on the dark side, but also captivating.
Members

Estrella del Sol Sánchez : vocals, guitar
Sebastian Neyra: bass
Schedule

We currently have no events listed for MINT FIELD.
Comments