Why register as a user?
(This is a one time popup)
With a username, you become a part of our community.
As a member, you can share your knowledge in the following ways.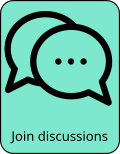 To register, click on the red person icon at the top right or this link.
We will not know anything about you other than your email, used for password confirmation and communications.
For next steps, see FAQ for: How can I register as a user?
Outline

Chaii (stylized in allcaps, as well as a logo that simulates persian script) is an Auckland-based rapper of Iranian origin whose music combines Persian beats and harmonies with western style hip-hop. She also switches to Persian occasionally as she raps. Her music is more or less dance music at its core, dominated by the synth sound and electronic percussion effects that construct electronic pop textures. That is when her use of middle eastern ryhthms and syncopation especially stands out. Her moniker means "tea", which is a drink that is ubiquitous in daily life all across Iran.
Schedule

We currently have no events listed for CHAII.
Comments