What is wrong with reviews?
Why register as a user?
(This is a one time popup)
With a username, you become a part of our community.  
As a member, you can share your knowledge in the following ways.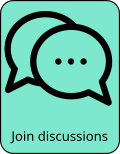 To register, click on the red person icon at the top right or this link.
We will not know anything about you other than your email, used for password confirmation and communications.  
For next steps, see FAQ for: How can I register as a user?
Nothing. Reviews are good, they are fun to read, and they induce a lot of reader engagement. But they are not particularly useful if you do not already know the artist or are familiar with their background. It is also not that useful if you do not know about the reviewer's particular taste or where they are coming from.
Besides, there are a lot of album review sites on the internet, but not a lot of descriptive sites.
It is conceivable that at some point we could get interested in incorporating reviews into our site, but at the moment our focus is on discovery and providing a guidebook for the vast amounts of great music that is out there.