How can I donate to the site?
Why register as a user?
(This is a one time popup)
With a username, you become a part of our community.  
As a member, you can share your knowledge in the following ways.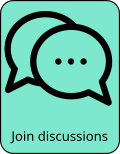 To register, click on the red person icon at the top right or this link.
We will not know anything about you other than your email, used for password confirmation and communications.  
For next steps, see FAQ for: How can I register as a user?
We are a really small group operating with a very little budget. Any financial help you can provide will give us the opportunity to put more time and effort into this site, do a more professional work in some areas, and provide a better service, from hardware to custom code to paying for the right kinds of APIs as needed.
To drop into the tip jar ("donate" sounds like we are a non-profit and your donation would be tax deductible, and neither is the case), you can click on the yellow button at the right side of the header, the leftmost button that says "Give to the cause". That will pop up a modal that has a PayPal widget and a Venmo QR. Those are the only platfoms we have set up thus far.
If you aren't using your phone, the Venmo QR will probably be useless, but if your browser connects your Venmo account to Paypal, a Venmo widget should also come up.
Thanks. Any amount will help and will be highly appreciated.