How can I contact the admin?
Why register as a user?
(This is a one time popup)
With a username, you become a part of our community.  
As a member, you can share your knowledge in the following ways.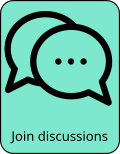 To register, click on the red person icon at the top right or this link.
We will not know anything about you other than your email, used for password confirmation and communications.  
For next steps, see FAQ for: How can I register as a user?
There is a white button in the header to the right, the one in the middle, that says "Drop us a line". Clicking on it will take you to the contact page. On this page, you will see a bunch of options that identify the purpose of your contact. That helps us get in the right mindset when we see the message.
Give us any suggestions, ideas, criticism, reaction, whatever is in your mind that relates to the site that you would like us to know.
Go ahead. Don't be shy.