Can I create my own entry as an artist?
Why register as a user?
(This is a one time popup)
With a username, you become a part of our community.  
As a member, you can share your knowledge in the following ways.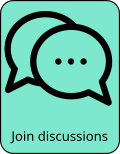 To register, click on the red person icon at the top right or this link.
We will not know anything about you other than your email, used for password confirmation and communications.  
For next steps, see FAQ for: How can I register as a user?
Well ... how to put this nicely.
Do you think you can really put aside what you are trying to do with your music and objectively assess what your music sounds like to an outsider? It's not easy. There is a reason why artist profiles on festival line ups sound like they are either far off the mark or marketing pieces. The idea of this site partially came from those outlines not being terribly helpful in the first place.
So it will be tough. Maybe this is a job best done by someone who can take a step back.
Feel free to alert us if you see something objectionable though.