About your role in this project
Why register as a user?
(This is a one time popup)
With a username, you become a part of our community.
As a member, you can share your knowledge in the following ways.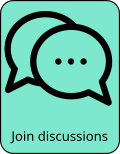 To register, click on the red person icon at the top right or this link.
We will not know anything about you other than your email, used for password confirmation and communications.
For next steps, see FAQ for: How can I register as a user?
Become a Propagandist!
Add an artist. If you ran across a band or artist you like that you would like more people to know and we don't have them on this site, create an entry for them (see the FAQ pages for step-by-step and guidelines).
Add a venue. If we do not have an entry for some venue in your town that you know about, create an entry for them. Who knows, one day, a traveller who's visiting your town might decide to visit them because of your piece.
Correct our content. If you disagree with something we have written, if you see us missing a point you think should be made, if we have any gaps, if we've been sloppy,  drop us a line. If you are a regular registered user, you also have the option to add a comment. If you have the privileges to edit content created by others, jump in and fix the article.
Share this site. The more people are aware of this site, more will sign up as propagandists, which means more artists an venues will be added, and knowledge base will become broader, deeper, and more diverse. Everyone benefits from that.