Why register as a user?
(This is a one time popup)
With a username, you become a part of our community.
As a member, you can share your knowledge in the following ways.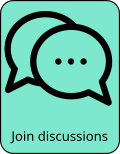 To register, click on the red person icon at the top right or this link.
We will not know anything about you other than your email, used for password confirmation and communications.
For next steps, see FAQ for: How can I register as a user?
The Propaganda Site is intended as a knowledge base of bands and artists as well as places where fans can see them play live. A knowledge base is a repository of information that can be used for something. This is a place where fans can deposit and share information about artists and venues that are useful to other fans.
Artists: We are focused on bands and artists that are either just starting up, or have been around a while, but have not gained a broad audience. In other words, artists with small to mid-level following that you, as a music fan, think ought to get more recognition. We would like to be the place where word of mouth gets amplified and reaches people on a platform designed to do just that. A megaphone, if you will.
Stores: Local record stores are special and we love them. We check them out whenever we are traveling. They can also be fairly specialized in what they sell, whether it is the second hand market vs new releases or focus on particular genres. Every store has its personality and is a part of a fan's treasure hunt. So we would like to have good, useful information on what we would be likely to find in the bins before we stop by.
Venues: We are mostly interested in small to mid size local venues where we are more likely to find relatively unknown bands and artists. Because these are typically small local places, not everyone knows about them and often need some basic, practical information about the layout and what to expect if they are going. We would like to be able to provide this knowledge for every location we have readers.
Events: We have built a schedule aggregation system into the site to give fans a sense of where the band or artist they are reading about is playing next, or who is playing next at the venue they are looking up. We do not sell tickets ourselves, but provide the links for the outlets who handle that part if you are interested in a show.
Festivals: We track some of the major festivals, especially as they announce their line up. We want to cover as many of the non-headliners as we can. We also provide an overview for the festival, what kinds of music one can find there, and links to purchase tickets, badges, what have you. Currently our focus is on the larger ones, but that may change over time.
Labels: They may look like trivia to casual fans, but labels are crucial part of an artist's ecosystem, providing valuable resources whether technical, legal, or marketing-based. Long time fans also know that a lot of them have their own character and serve as curators in a way. We currently have a small but growing collection of entries for labels as well.
Authors: Most important component of this site is you, the music fan. Whether this site could be of any use to anyone depends on readers becoming authors (or propagandists, if you will) and adding their content in the same spirit as the site was intended: a place to share one's love of up and coming or criminally overlooked bands and artists who deserve to be enjoyed by more people. All we can do on our side is to get the ball rolling with the hope that others will keep it going and help the site grow and become useful for all of us.