Why register as a user?
(This is a one time popup)
With a username, you become a part of our community.
As a member, you can share your knowledge in the following ways.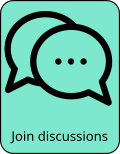 To register, click on the red person icon at the top right or this link.
We will not know anything about you other than your email, used for password confirmation and communications.
For next steps, see FAQ for: How can I register as a user?
Our goal is to provide a platform for musical discovery.
We are fortunate to be living at a time when we are aware of all the new bands and artists emerging from all corners of the earth, almost in real time as they are beginning to find their footing. It is also a time when musicians have access to a rich array of musical traditions and histories that were previously harder to reach, giving them more sources to draw inspiration from and cross-pollinate across all kinds of boundaries. On the flip side, this leaves us fans with the daunting task of sifting through all these names coming up one after the other to find the subset of artists we can get excited about. It makes us wish that we had someone reliable we can turn to and ask "what is this band like?" or "what is that artist's sound?" to get a quick run-down so that we can decide which ones we would be interested in following up on.
Same thing with going to a venue for the first time and wanting to find out practical facts about the place so that we know what to expect.
That is the role we would like The Propaganda Site to play: become a place fans will visit in order to find an overview of some band or artist they are curious about, perhaps because their name appears as the opening act on some show, or among the small print acts listed in a festival lineup. Or find out basic facts about a venue: how big it is, where things are, where to park, if they have an ATM, etc. Things only people who have been there can tell us.
We would like to be the site where you, the reader, can not only get this information, but also contribute to let others know what you have found out.